Bouclé
---
Bouclé fabric is known for its distinctive texture, which combines different yarn thicknesses and materials to create a unique, looped surface. This results in a curly and inviting structure that adds warmth and character to any space. The fabric is not only soft and cozy but also elegant, making it the perfect choice for creating a welcoming environment for your loved ones.
Clean it regularly with a soft brush or a vacuum cleaner.
Alpine
Alpine combines polyester and polyacrylic yarns, twisted to make a beautiful upholstery fabric. It has a wonderful texture formed by the varying size of loops, from large and loose curls to small and tight circlets. Bouclé yarns are really fun to spin. Made by first creating loose loops around a core yarn, bouclé yarns look marvelous and are a very popular choice in furniture fabrics. This fabric can be applied widely: perfect for loose covers and easily upholstered on tight-fitted models.
Material: 96% Polyester/ 4% Polyacrylic
Martindale: >75 000
Light fastness: 5
Society
This sustainable bouclé textile has a luxurious look & feel. Made from 100% recycled polypropylene, Society is multicolored, soft with a rough and modern look. Society fits all types of upholstery, so it can be applied widely, as loose covers as well as on tight-fitted furniture. It is voluminous and has a comfortable hand feel.
Material: 100% Recycled Polipropylen
Martindale: 45.000
Light fastness: 5
Velour & microsuede
---
Velour is a soft textile with a plush texture and rich colors that can add a touch of elegance and glamour to your furniture. Whether you're creating a cozy reading nook or a stylish living room, velour upholstery can add warmth, depth, and character to your decor.
Microsuede is a type of microfiber or faux suede made from polyester. It has the same feel as genuine suede leather but is more resistant to wear and stains. It's also easy to clean, thanks to the fine fibers that prevent dust from accumulating, making it a perfect choice for those with allergies. Not only that but any dirt that does settle can be easily removed with a vacuum cleaner.
At KEBE, you can find these textiles in various colors, including OEKO-TEX® STANDARD 100 certified fabrics that are free of harmful substances and safe for you and your loved ones.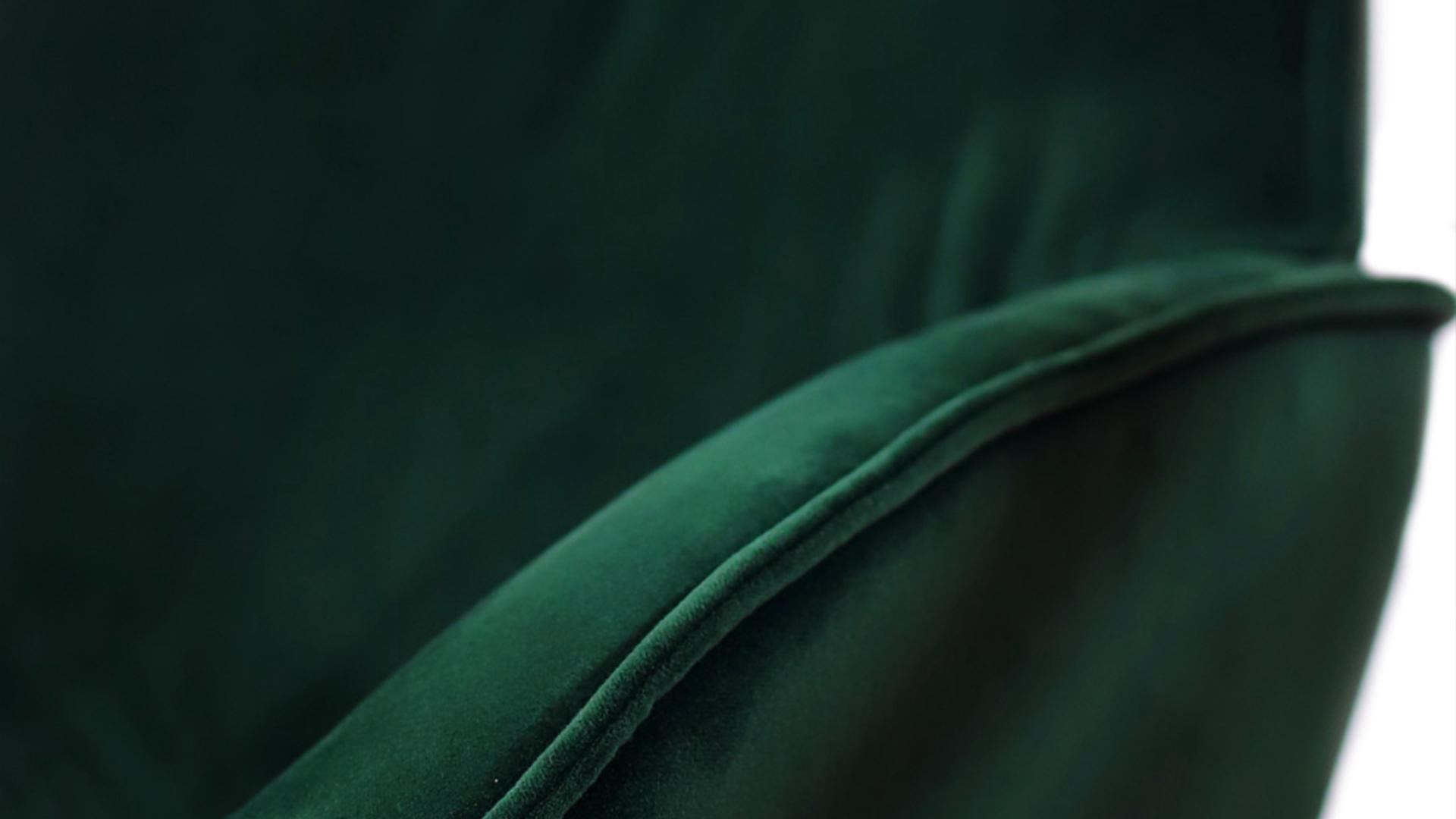 Adore
Very soft in appearance this plain velvet fabric has a glamorous feel. Like the name implies this is a fabric you will simply adore. Due to its natural pile appearance the Adore fabric has a shiny quality that gives it a special kind of charm with a slightly silvery effect when exposed to light. As furniture's cover, this fabric looks and feels beautiful and luxurious.
Material: 100% Polyester
Martindale: 88.000
Light fastness: 4-5
Oekotex Certificate no.: 1908090
Air
Air is a luxurious piece-dyed upholstery fabric, which has an elegant printed slub texture. This fabric is made from 78% recycled RPET bottles and 22% virgin polyester. Air is strong, durable, and easy to clean with a damp cloth. A heavy fleece backing of this fabric creates an extra special thick hand feel. Perfectly suitable for both fitted and loose-fitting upholstery and available from stock in a wide range of modern, deep, and trendy colors.
Material: 100% Polyester and recycled polyester
Martindale: 95.000
Light fastness: 4-5
Oekotex Certificate no.: 2110214
Challenger
Challenger is our ultimate answer to consumers' need for flawless, easy-to-care-for plain upholstery fabric. Without concessions. It's a microsuede consisting of two different microfibres. Challenger's upper layer is a woven microfibre while the lower layer is knitted. The result is a fabric that leaves furniture with a voluminous and super soft luxurious feel. Available in a wide range of contemporary colours to suit every style.
Material: 100% Polyester
Martindale: 70.000
Light fastness: 3-4
Oekotex Certificate no.: 1908090
Earth
A velvet that is made in a sustainable way from 100% RPET bottles. This luxurious upholstery fabric is durable and very easy to clean and maintain. Earth is suitable for all types of upholstery and we supply this velvet in a wide range of trendy, modern, and commercial colours.
Material: 100% recycled PET
Martindale: >100.000
Light fastness: 5
Oekotex Certificate no.: 2110214
Coarse-woven & flat-woven
---
Plain and simple, flat woven fabric is a type of fabric with a smooth surface, making it easy to clean. Dust and stains tend to stay on top of the fabric rather than penetrating its structure. The fiber weave composition gives the fabric a sophisticated look, adding Scandinavian simplicity to any interior. Despite its simplicity, the fabric never appears dull or boring.
In comparison, a coarsely woven fabric excels at concealing any kind of discoloration that may occur during usage, such as stains or dirt. Its interesting structure effortlessly captures attention while maintaining the essence of Nordic, Scandinavian simplicity.

You can choose from our OEKO-TEX® STANDARD 100 certified fabrics as well.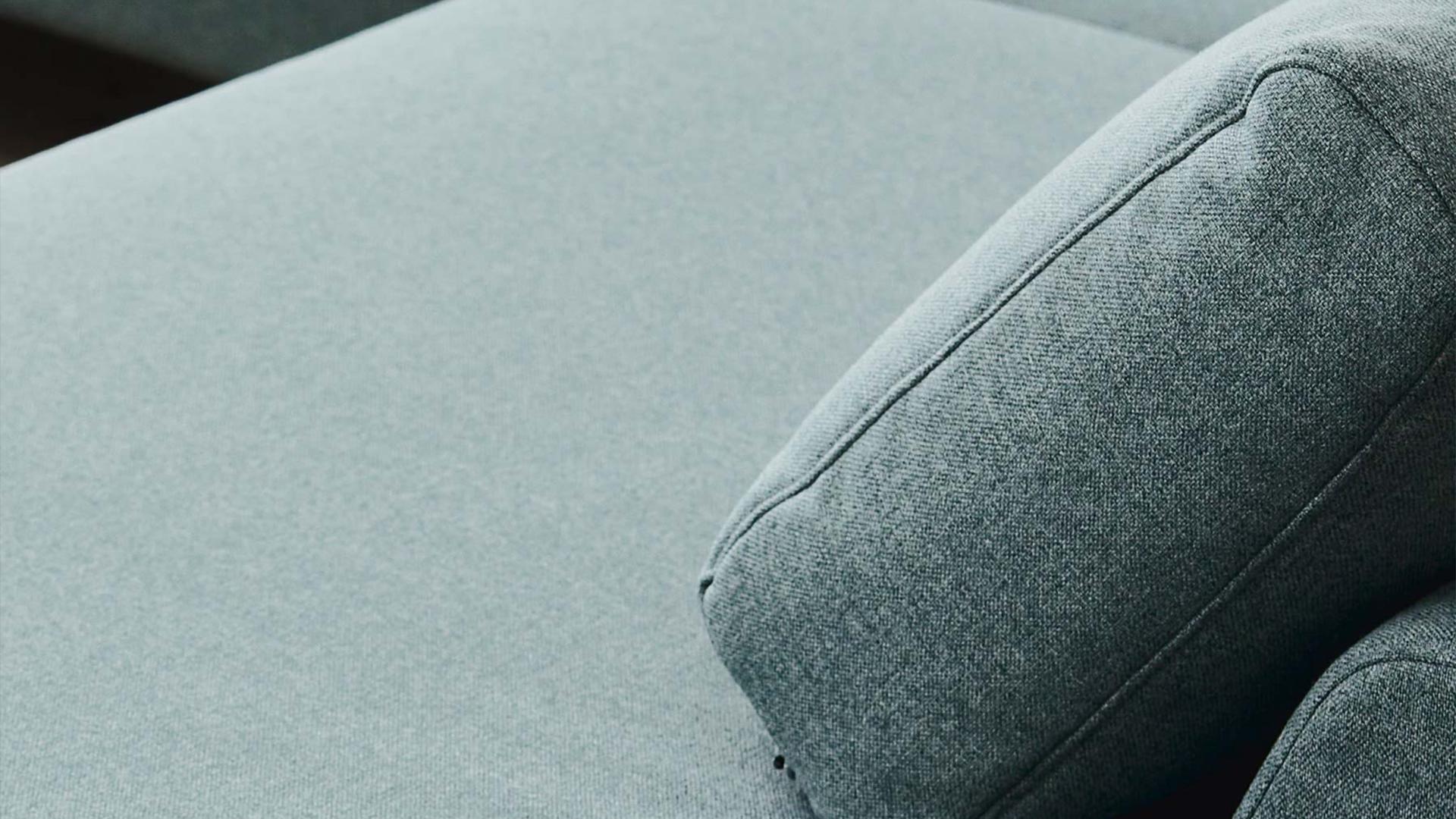 Brema
The Brema fabric is distinct in appearance; woven from thick threads but with a lot of elasticity to it. It consists of yarns in weave form which are then passed through one another. Brema has a lot of texture and feels slightly coarse but comfortable. This fabric is very durable and resilient and has great insulating properties. It's a great choice for living room furniture which will be used often.
Material: 39% Polyester /39% Polyacrylic /14% Cotton / 8% Wool
Martindale: 25.000
Light fastness: 4-5
Oekotex Certificate no.: 1908090
Lido
Somewhere in the middle between coarse and soft this high-quality fabric feels comfortably welcoming. Lido is a fine woven upholstery fabric that is stain resistant and has a slight sheen to it. This fabric presents a density of color very well and looks glamorous, making it a popular choice. As furniture upholstery, it gives any interior a very hospitable feel.
Material: 100% Polyester
Martindale: 105.000
Light fastness: 6
Yeti
Yeti's slightly fuzzy texture looks and feels tender to the touch and is ideal for living room furniture. Yeti is delicate in appearance but wear-resistant with a simple pattern; it is somewhere between corduroy and velvet - soft but with the durability of jeans. This special combination of strong and soft is an excellent choice for furniture upholstery.
Material: 100% Polyester
Martindale: 84.000
Light fastness: 6+
Soil
Woven on an air jet loom, piece dyed and 60% sustainable, Soil fits all types of upholstery and will make your chair or sofa look luxurious. Please note that during use a light wooly or hairy look can appear, this has no further influence on the durability of this sustainable textile.
Material: 60% Recycled PET / 40% Polyester
Martindale: >100.000
Light fastness: 4-5
Oekotex Certificate no.: 2110214
Bull
---
Bull presents a fusion of 100% recycled leather fibers on the backside and microfiber fabric on the front. This unique blend of materials makes it a top choice for customers seeking the perfect balance of comfort, durability, and aesthetic appeal. It results in remarkable sturdiness while maintaining a pleasant and soft-to-the-touch cover.
Leather leftovers are ground by a shredder and, after a special process, flocked onto knitted microfiber. This unique leather fiber backing creates a special, comfortable, thick grip. The top layer is knitted microsuede with a leather print and embossing. It has also been finished with a treatment to prevent dampness and dirt.
The combination of these elements produces a surface that is sumptuously smooth but resistant to daily wear and tear, promising lasting beauty for years to come.
Material:
Front: 96%PES 4%PU, Back: 100%LEATHER
Martindale: 32.000
Light fastness: 3-4
Fastness to rubbing: 4-5
More information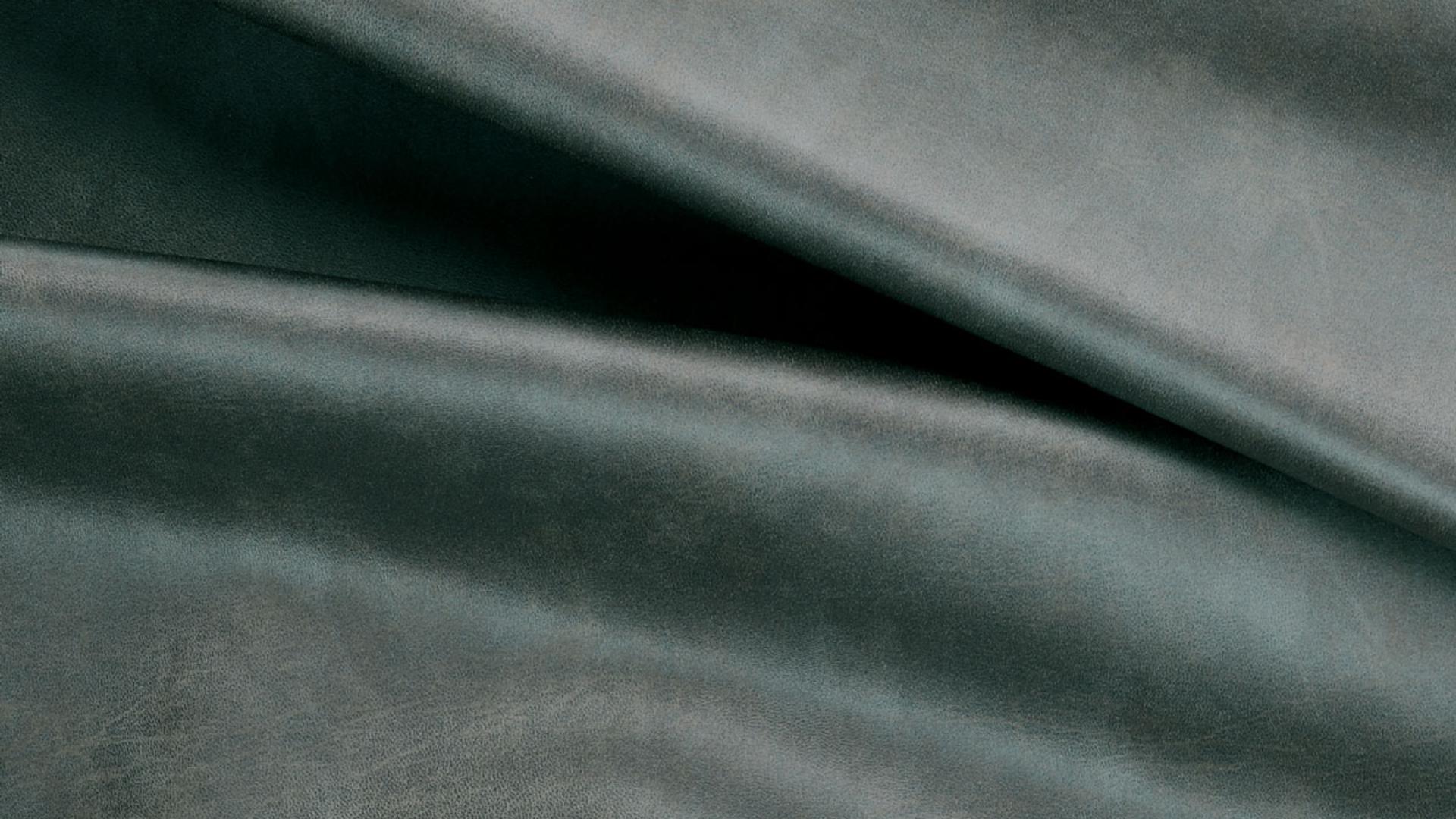 Chenille
---
Chenille stands out as a woven fabric crafted from a variety of fibers, including cotton, silk, wool, or rayon. It boasts a unique history and manufacturing process: short lengths of yarn are positioned between two core yarns and then skillfully twisted together.
Afterward, these formed loops are meticulously cut into a fuzzy pile, followed by a steaming process that secures the pile's position. The end result is a soft and velvety textile, inviting to the touch and adorned with a captivating iridescence, imparting a touch of glamour.

Beyond its tactile appeal, Chenille is characterized by its remarkable durability, ensuring it stands the test of time. However, it is worth remembering that the bristles can be sensitive and the material may have a tendency to stretch or shrink. Therefore, it is strongly recommended to follow the manufacturer's care instructions to maintain its quality and durability.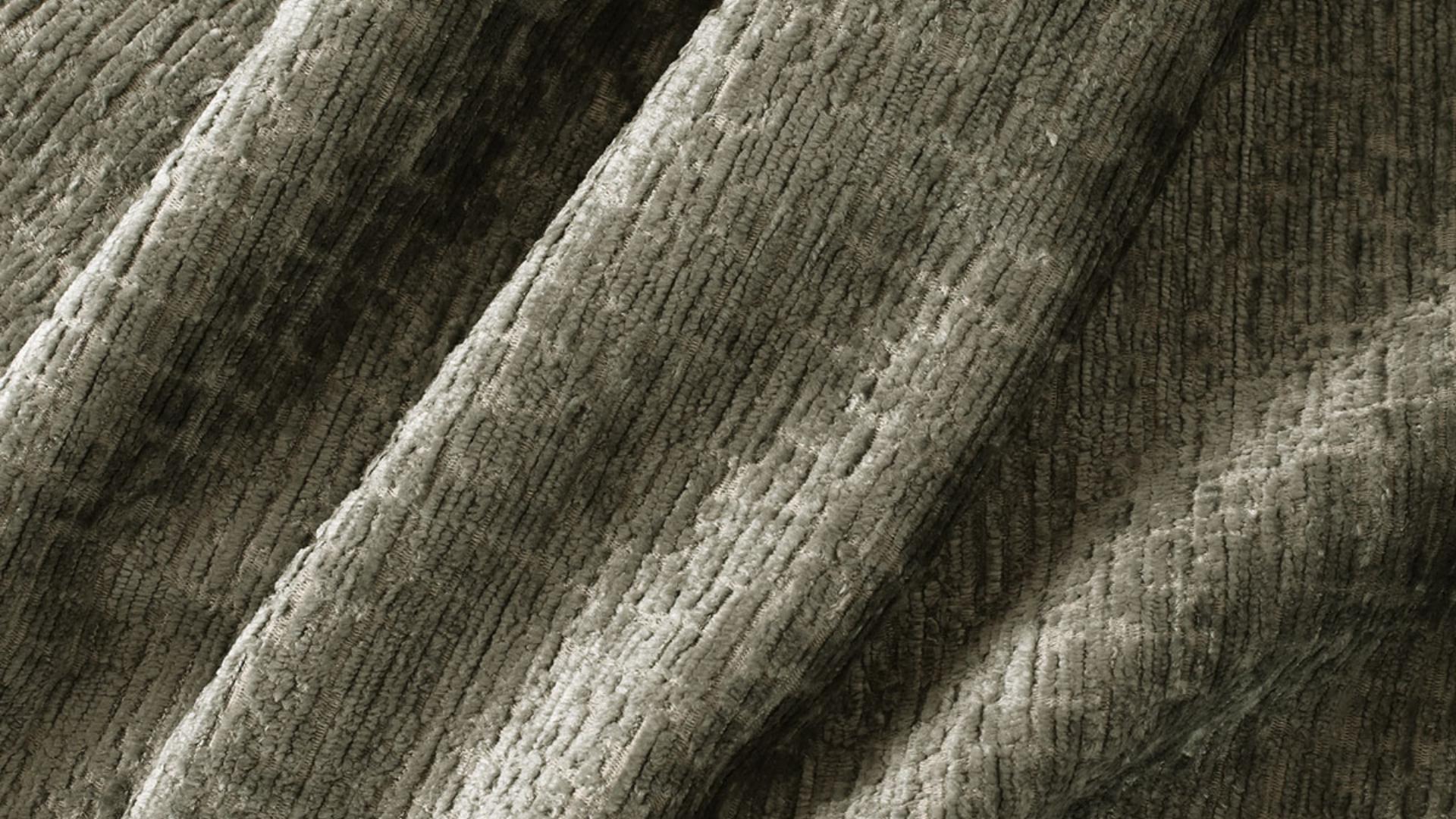 Mito
Mito is a flatwoven fabric, laminated with a thick non-woven backing to develop a unique structure that is durable, strong, and suitable, yet soft to the touch. It comes in beautiful light colors and has a luxurious quality that will make you fall in love with it at first sight. Delicate but sustainable, it is perfect for living room furniture, imparting a cozy yet high-quality feeling to the interior.
Material: 90%PES, 10%NY, 100%PES
Martindale: 40.000
Light fastness: 4

More information
Home
Combining softness, volume and an undeniable note of elegance, this fabric provides pleasant warmth in the home and hassle-free maintenance, so you can enjoy your furniture to the fullest. With a slight sheen, this chenille fabric offers a subtly refined look and texture that is simply irresistible to the touch. The chunk-dyed color range includes a mix of earthy tones and cozy deep hues that never go out of style.
Material: 100% Polyester
Martindale: >100.000
Light fastness: 4-5
More information
Fusion
This chenille jacquard fabric can enhance the look of any piece of furniture. It seamlessly blends jacquard weave with the luxurious look of chenille yarn for a sophisticated and rich effect. The fabric is elegant, soft and pleasant to the touch, and its characteristic texture captures the timeless charm of classic textiles.
Material: 100% Polyester
Martindale: 85000
Light fastness: 5
More information
Outdoor fabric - Climbing
---
Climbing is a high-performance fade-resistant fabric, which has been developed for both indoor and outdoor use. It is easy to clean, water repellent, stain free, odour and mildew resistant, and durable.
The unique properties of Climbing outdoor fabric ensure that stains are removable and dirt is easily cleanable resulting in your fabric maintaining its fresh and new look. Climbing's anti-microbial and anti-bacterial attributes combat the growth of mold and mildew, which means you can rest assured knowing you and your loved ones are protected against germs and bacteria. Additionally, our outdoor fabric will resist bad odours, commonly found in more humid environments.
Material: 100% Solution Dyed Polyolefin
Martindale: 25.000
Light fastness [scale 1-8]:
iso 105-b02 indoor: 8
iso 105-b04 outdoor weathering: 8
UV test [scale 1-5]
iso 4892-3: 5
Stain Free, Water Repellant, Anti-Microbial & Anti-Bacterial, Mildew & Odour resistant.
ISO 14001 certified for environmental management.