Challenger · Taupe · Bond Medium · Black
W: 74.0 cm / D: 76.0 cm / H: 84.0 cm
---
Customize your own ideal chair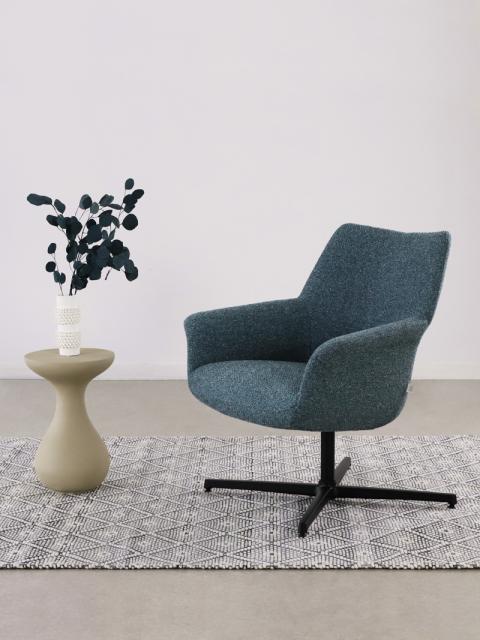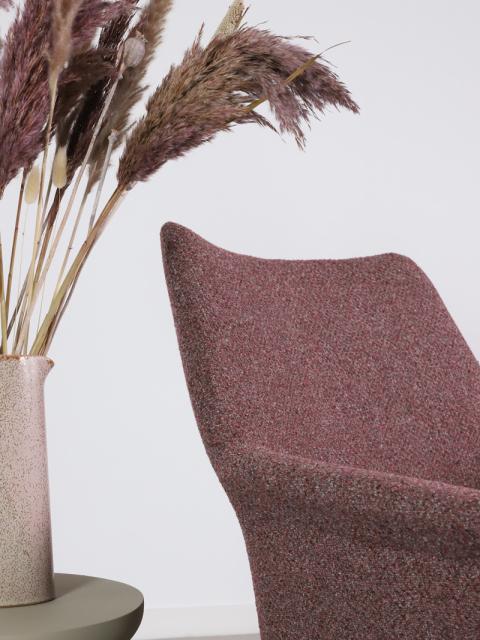 Pimento chair
Pimento, designed by Studio Schrofer, is an elegant lounge chair suitable for any room in your home. Comfortably upholstered yet still slim in design, this chair has armrests that are shaped like blooming petals. Its swivel base allows easy all around motion, and is available in black or chrome. This chair is an inviting seat in any room and a beautiful addition to your interior décor. Pimento comes with a 10-year warranty on the dynamic foam upholstery, the inner frame and springs. It is available in many cover choices, including our new line of fabrics, which are made from recycled RPET bottles.
About our dynamic foam
In order to ensure that our products are extremely long-lasting and exceptionally comfortable, we utilize a substance known as cold-cure foam. This particular material is the key factor behind our chairs' ability to maintain their shape and flexibility over extended periods of time. The foam contains really small air pockets, resembling tiny bubbles within its denser composition, which contribute to the ideal level of firmness. Following the shaping of the foam, we meticulously hand-sew the covering to ensure a perfect fit. The outcome? Chairs that exude elegance from every angle and are resistant to sagging.

This is what guarantees enduring comfort, starting from the moment you receive your chair and continuing for many years to come.

10 years warranty
All our chairs are secured by our 10-year warranty on the dynamic upholstery foam, the springs, and the inner frame.
Specifications
Description
| | |
| --- | --- |
| Product name | Pimento chair |
| Product number | 54806C1384069 |
| Product Group Description | Lounge chairs |
| Depth | 76.0 cm |
| Volume | 0.39 |
| Width | 74.0 cm |
| Seating Depth | 54.0 cm |
| Height | 84.0 cm |
| Seating Height | 46.0 cm |
| Return Swivel | No |
Legs & Feet
| | |
| --- | --- |
| Return Swivel | No |
| Leg Type | Bond Medium |
Cover
| | |
| --- | --- |
| Product name | Pimento chair |
| Color group | Brown |
| Color | Taupe |
| Fabric name | Challenger |
| Fabric name | Fabric |
| Composition | 100% polyester |
| LightFastness | 3/4 |
| Pilling | 5 |