Soil · Indigo · Bossa · Chrome
W: 72.5 cm / D: 87.0 cm / H: 103.0 cm
---
Customize your own ideal chair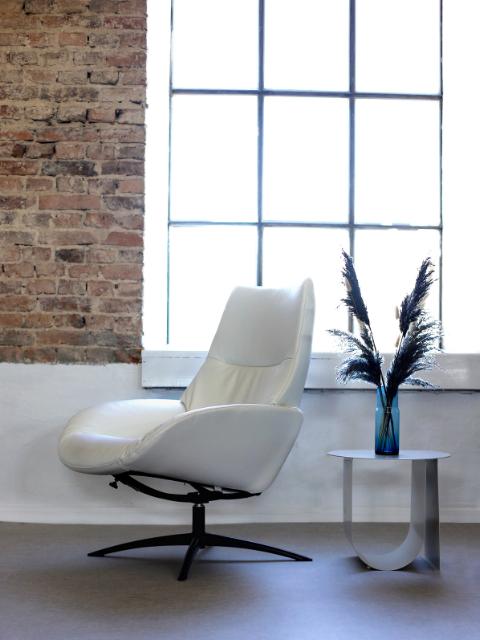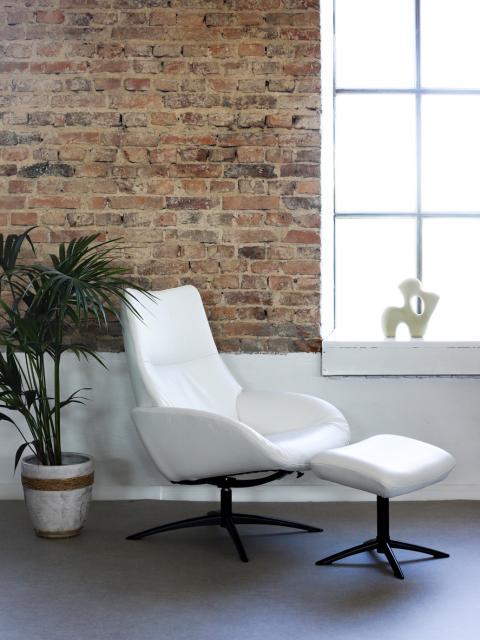 Lotus chair
The Lotus recliner, designed by Kebe, is one of our bestsellers and not only stylish but also very resilient. This chair is truly made for life. It's simple Scandinavian design assures quality and durability that go hand in hand with modern trends. The Lotus has a swivel base and a very smooth push-back reclining mechanism.
This recliner will keep you properly aligned and supported while relaxing. Its classic look, which matches any décor, includes a high backrest and a stable support base. It will add fabulous comfort to your home, no matter which room you put it in. It comes with a 10-year warranty on the dynamic foam, the inner frame and springs. Add a matching footstool for a perfect set.
About our dynamic foam
To make our products super durable and uniquely comfortable, we use a material called cold-cure foam. This material is the reason our chairs retain their shape and flexibility year after year. The foam contains really small air pockets, like tiny bubbles within its denser structure, which allows for just the right amount of firmness. After we shape the foam, we work on the covering which is hand-sewn and fits it perfectly. The result? Chairs that look elegant from all angles and will not sag.
That is what provides lasting comfort for you, from the first day you get your chair and for many years to come.
10 years warranty
All our chairs are secured by our 10-year warranty on the dynamic upholstery foam, the springs, and the inner frame.
Specifications
Description
| | |
| --- | --- |
| Product name | Lotus chair |
| Product number | 9323146401193 |
| Product Group Description | Recliner chairs |
| Depth | 87.0 cm |
| Volume | 0.59 |
| Width | 72.5 cm |
| Seating Depth | 52.5 cm |
| Related Set Items | 9333147401193 |
| Height | 103.0 cm |
| Seating Height | 47.5 cm |
| Return Swivel | No |
Legs & Feet
| | |
| --- | --- |
| Return Swivel | No |
| Leg Type | Bossa |
Cover
| | |
| --- | --- |
| Product name | Lotus chair |
| Color group | Blue |
| Color | Indigo |
| Fabric name | Soil |
| Fabric name | Fabric |
| Composition | 60% recycled PET, 40% polyester |
| LightFastness | 4/5 |
| Pilling | 4 |