Brema · Beige · Vision · Black
W: 77.0 cm / D: 88.0 cm / H: 110.5 cm
---
Customize your own ideal chair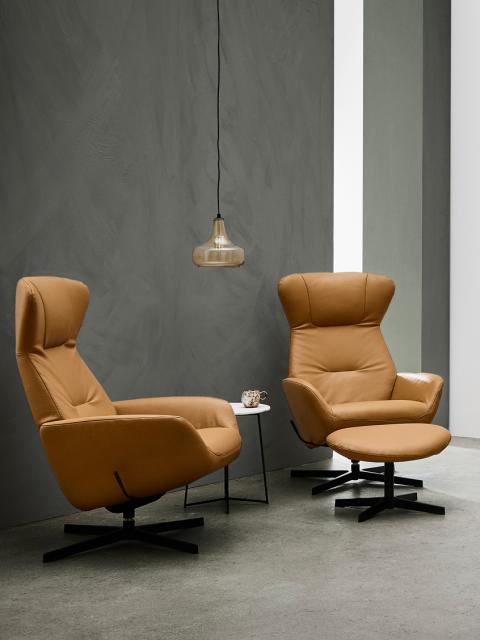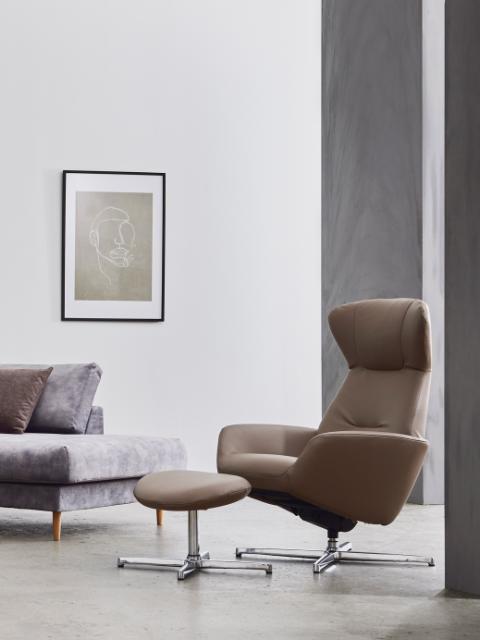 Yani chair
The Yani is one of our new Dynamic Lifestyle line of recliners. This innovative chair has a patented system with a unique glide path. As you recline you get a natural feeling of sinking into the chair as it tilts in sync with the back. Your body is perfectly balanced and it feels like you are in complete harmony with your chair.
Thanks to our amazingly comfortable dynamic foam, the Yani envelops your body as if it was made especially for you. Graceful in shape and with an aesthetically pleasing slim design, it also features a padded headrest and a swivel base enabling freedom of movement in any direction.
This Dynamic Lifestyle recliner is sure to accompany you through many future memories and is secured by our 10-year warranty on the dynamic foam upholstery, the inner frame and springs. Available with a footrest to complete the sensational feeling of dynamic comfort. Choose your own fabric and colour to create a chair with your own personal touch.
About our dynamic foam
To make our products super durable and uniquely comfortable, we use a material called cold-cure foam. This material is the reason our chairs retain their shape and flexibility year after year. The foam contains really small air pockets, like tiny bubbles within its denser structure, which allows for just the right amount of firmness. After we shape the foam, we work on the covering which is hand-sewn and fits it perfectly. The result? Chairs that look elegant from all angles and will not sag.
That is what provides lasting comfort for you, from the first day you get your chair and for many years to come.
10 years warranty
All our chairs are secured by our 10-year warranty on the dynamic upholstery foam, the springs, and the inner frame.
Specifications
Description
| | |
| --- | --- |
| Product name | Yani chair |
| Product number | 642068816805201 |
| Product Group Description | Recliner chairs |
| Depth | 88.0 cm |
| Volume | 0.78 |
| Width | 77.0 cm |
| Seating Depth | 52.0 cm |
| Has Adjustable Headrest Description | Optional |
| Related Set Items | 6430689168052 |
| Height | 110.5 cm |
| Seating Height | 44.5 cm |
| Return Swivel | No |
Legs & Feet
| | |
| --- | --- |
| Return Swivel | No |
| Leg Type | Vision |
Cover
| | |
| --- | --- |
| Product name | Yani chair |
| Color group | Beige |
| Color | Beige |
| Fabric name | Brema |
| Fabric name | Fabric |
| Composition | 39% polyester, 39% polyacrylic, 14% cotton, 8% wool |
| LightFastness | 4/5 |
| Pilling | 4 |