Balder · Cognac · Bossa · Satin chrome
W: 72.5 cm / D: 87.0 cm / H: 112.0 cm
---
Customize your own ideal chair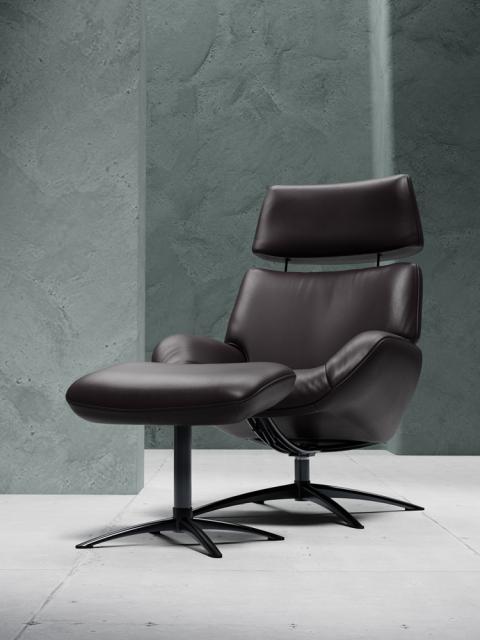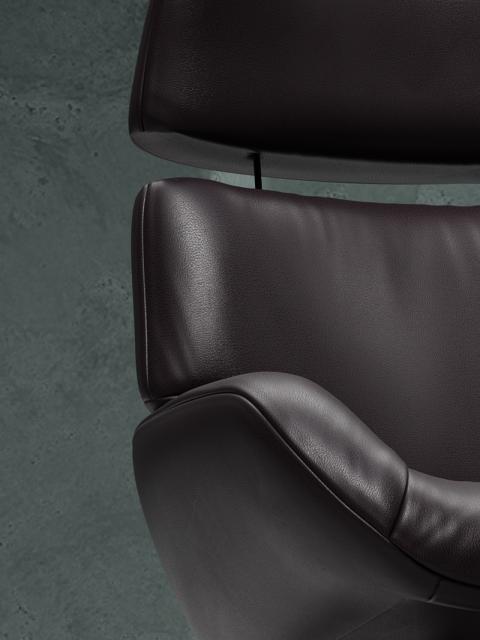 Lotus Plus chair
Stylish and wear-resistant the Lotus Plus has an adjustable headrest, which is especially useful in a reclined position to keep your head and neck lifted and supported while looking forward. For instance while watching TV the headrest can be adjusted in an upright position for custom comfort. With stable support, a swivel base and a welcoming, comfy design this chair is made for your down time. Its simple design can match any decor adding flair to it with its classic elegance. The Lotus Plus comes with a 10-year warranty on the dynamic foam, the inner frame and springs. Add a matching footstool to this great recliner for a complete relaxation set.
About our dynamic foam
In order to ensure that our products are extremely long-lasting and exceptionally comfortable, we utilize a substance known as cold-cure foam. This particular material is the key factor behind our chairs' ability to maintain their shape and flexibility over extended periods of time. The foam contains really small air pockets, resembling tiny bubbles within its denser composition, which contribute to the ideal level of firmness. Following the shaping of the foam, we meticulously hand-sew the covering to ensure a perfect fit. The outcome? Chairs that exude elegance from every angle and are resistant to sagging.

This is what guarantees enduring comfort, starting from the moment you receive your chair and continuing for many years to come.

10 years warranty
All our chairs are secured by our 10-year warranty on the dynamic upholstery foam, the springs, and the inner frame.
Specifications
Description
| | |
| --- | --- |
| Product name | Lotus Plus chair |
| Product number | 9353346064002 |
| Product Group Description | Recliner chairs |
| Depth | 87.0 cm |
| Volume | 0.59 |
| Width | 72.5 cm |
| Seating Depth | 52.5 cm |
| Height | 112.0 cm |
| Seating Height | 47.5 cm |
| Return Swivel | No |
Legs & Feet
| | |
| --- | --- |
| Return Swivel | No |
| Leg Type | Bossa |
Cover
| | |
| --- | --- |
| Product name | Lotus Plus chair |
| Color group | Brown |
| Color | Cognac |
| Fabric name | Balder |
| Fabric name | Leather |
| Aniline | Semi-aniline |
| Thickness | 1,3-1,5 |
| LightFastness | 4/5 |